Three UTD employees are finishing up their art degrees with the final display of their thesis artwork in a show called Reflex Soul, which opened to a large crowd Sept. 26 in the Visual Arts Building.
Reflex Soul is an exhibition of a final semester of work, including photographs, sculptures and videos from humanities doctoral candidate Jillian Round; arts and technology master's student LeeDon Moore; and arts and technology master's student Donald Davis.
The show was curated by art professor John Pomara, an adviser for Round, Moore and Davis.
"It's been very exciting to see their personal growth and success in hanging a show," he said.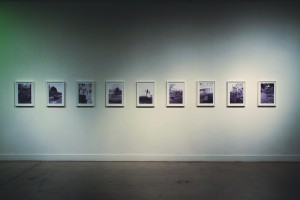 With each artist having a unique style, putting together the show in a cohesive way was a challenge.
"Part of the deal is having the students learn how to put up a show," Pomara said. "It's the grand finale of their education to be able to organize their work together."
Along with both Round and Moore, Davis is currently employed at UTD and has been balancing school with work for years.
"I've worked here for 17 years," he said. "I like taking classes, but I take them very slowly. My job doesn't allow me to take more than one or two at a time."
Davis will be completing his master's in arts and technology at the end of the semester. He currently works for UTD as director of technology customer service and information resources.
Davis' personal collection of old, black-and-white family photographs that he digitally altered to remove the subjects is a representation of fractured memories.
"Once we start forgetting who the people in the photographs are, we start to fill in the gaps of who they were," he said.
Through the concept of anamnesis, or a remembrance of the past, Davis was able to find inspiration for his show.
Anamnesis is a term from Plato that describes what's left behind after someone dies, which are the memories those living have to learn from, Davis said.
Round's video art presented at Reflex Soul is part of her political commentary in her pursuit for her creative doctorate in humanities.
Her works are political satires meant to be humorous and thought-provoking. One of her pieces named "Simply Pat" is a video and audio loop of quotes from Pat Robertson, the host of the religious lifestyle television show "The 700 Club."
"(Robertson) is very anti-everything, so I wanted to make this very overwhelming," she said. "You have to listen closely to make sense of it all, but at the same time it doesn't make very much sense."
Her other video works are takes on gay issues, which are a big part of her dissertation.
"A lot of what I do is appropriated from the mainstream media, and I turn it back on its head to say, 'Hey, this is what you say, but I'm gonna give it my own uniquely gay interpretation of it' and give it back to them," she said.
Round completed her bachelor's degree at UTD in arts and performance and her master's in arts and technology. She currently teaches in the ATEC program.
Moore will finish his Master of Fine Arts in ATEC at the end of the semester. Moore is currently the creative director of the marketing department at UTD.
Moore's work took a while to find its bearings and become a cohesive unit. His photography, conceptual sculpture and video piece are proof of his diversity and growth.
"I do big ticket items: religious, politics, sex, guns," he said. "It's those big issues that I have strong opinions about."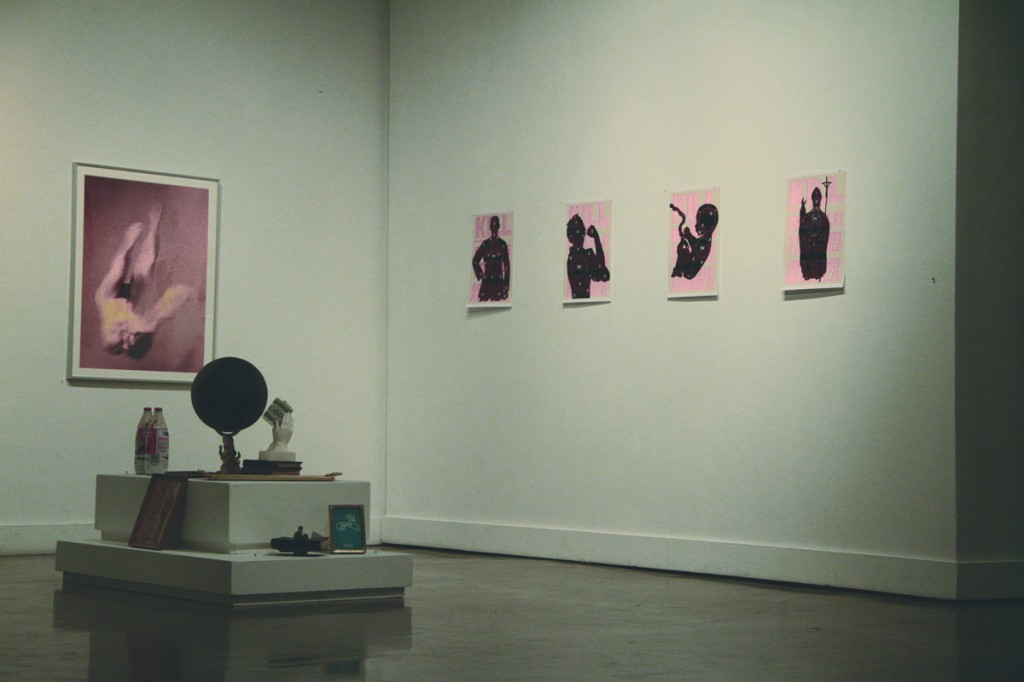 By the repetition of religious imagery and the dollar bill, Moore comments on the business of the modern church and how money is the metaphorical religion of the United States. There's also a sculpture piece about Chick-fil-A and its anti-gay rhetoric.
After the new ATEC building opened, Moore was motivated to take a class and continue his education even though he had enough credits to graduate at the time.
"I went back to doing digital work, and that's where I made my video piece," he said. "The video piece has the same sense of humor and irony you get out of the sculptural pieces."
Now that Moore, Round and Davis are about to complete their final degrees after Reflex Soul ends Oct. 24, there's a level of uncertainty ahead for them.
"I'm about to graduate, and I don't know what I'm gonna do with myself," Moore said. "I guess I can just keep making artwork."