Despite a rocky start to the season, the men's and women's soccer programs have qualified for another ASC tournament run, finishing first and fourth in their conferences, respectively.
Both teams began the year by losing their first two games by a combined four goals. Junior forward Danny Meyer didn't make too much of the losses, especially considering the teams they faced.
"Our first loss came against a team that was ranked No. 7 in the nation at the time and the second loss came to the team that is now No. 1 in the nation," he said. "Both games were close at 3-2 and 1-0, so although we lost, it showed us that we (could) compete with the best teams in the country."
Since their 0-2 starts, the men's (12-4-1) and women's (11-6-1) teams have combined to win 23 of their last 28 games, including two ties. The men's team currently remains undefeated against ASC opponents. Their record may be unblemished, but the path there required some last minute heroics.
To open their ASC schedule, the Comets went into overtime on four consecutive occasions, including a double overtime tie against Concordia. The team went 3-0-1 during that four game span and hasn't played an overtime game since.
"The overtime games, with the exception of the McMurry game, were all against the three other best teams in the conference," Meyer said. "We came away with good results so that was the most important thing. After that string of games we actually moved to a different formation and found more success that way."
The men's soccer team takes the most shots out of any ASC team at 22.22 shots per contest — almost three more shots than second place Mary Hardin-Baylor.
In the ASC standings, Texas-Tyler has seen a considerable drop-off compared to last year, just barely squeezing into the ASC tournament. Hardin-Simmons, Hardin-Baylor and Concordia all finished the season with six wins and were separated by no more than two in the loss column.
The Comets and Hardin-Simmons will have a first round bye as the remaining four teams face each other in single elimination play starting Nov. 3.
***
The women's soccer team finished the ASC in fourth place for the third consecutive season, but sophomore forward Jacquie Kaufman said the team is keeping its spirits up.
"The team is feeling confident as the playoffs begin," she said. "We are stronger and more united than ever and are ready to compete for a conference championship and then a national championship."
Kaufman was a catalyst for last year's young squad and said the difference between the team now and at the end of last season is noticeable.
"I think the team has grown a lot since last year," she said. "We've had a lot of time to bond and become stronger as a group and our skills have developed greatly."
The Comets went toe to toe with Texas-Tyler on Oct. 20. Both teams went scoreless in the first half. It took a 25-yard shot from Texas-Tyler early in the second half to break the score. That would prove to be the decisive goal as the Comets fell 1-0, but the game provided a glimpse of their potential.
The women's soccer team employs a balanced approach on the field. Statistically, they are in the top half in-goals scored and in-goals allowed. They are only one of four ASC teams to have a positive goal differential.
The play of Kaufman, sophomore midfielder Melissa Fulfer and senior forward Megan Mugavero have helped shoulder the Comets' offensive efforts. The team may still be young, but with another year under their belt they are a poised to possibly make a deep run.
The Comets will begin ASC tournament play on Nov. 1 against Concordia.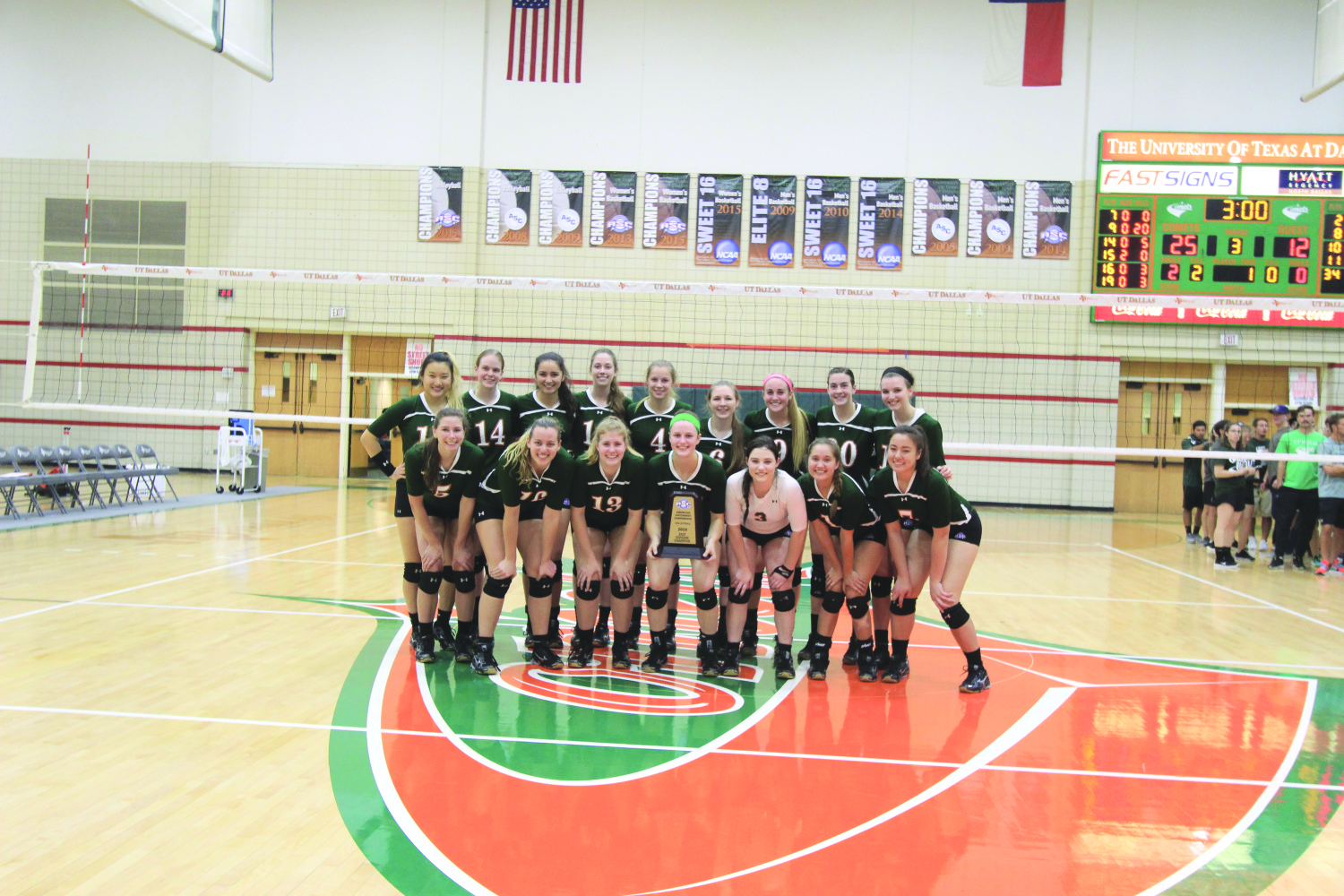 The UTD Volleyball team just received their highest national ranking in the program's history.
Despite the team's head coach Marci Sanders being unsure of how this season would play out for the team, they have performed very well this season.
Sanders said they lost a number of senior players who made significant contributions to the program, and was not sure how this season would shape up.
"(This season was) unexpectedly successful. We were curious how we would do with half of our line up being freshmen," she said.
Sanders said she believes the team's remaining senior class is a big part of the team's success.
"I think a lot of that is in part because our senior class have set a very hardworking culture, we call it our championship culture," she said. "They brought the freshmen in under their wings and taught them what they need to know in order to be successful within this program."
Senior outside hitter Abbie Barth explained the underclassmen on the team are eager to learn, so they're an easy group to lead.
"I think the biggest thing is just leading by example and being a role model," Barth said. "I think that's the best way to lead. For them to see you doing things right, and then hopefully they kind of pick up on that and follow in those footsteps."
Freshman outside hitter Dylan Brinkman said the team's success has been a result of the their positive dynamic.
"Our team chemistry was really strong early on and we played really well together," Brinkman said. "We're can bring each other up when we're down, and are always there for each other."
This season the team only has three seniors, and almost half of the members are freshmen.
Brinkman said the higher number of freshmen on the team added some pressure on her, and pushed her to learn quickly.
"Because there were so many of us we had to catch on really fast to their tendencies and how the team worked," she said. "We had to fit in. I guess that was the hardest part, finding our role on the team, not only on the court but off the court too."
Barth believes that the team will only continue to improve, and is satisfied with how they have done this season.
"It's good to know that we really are a very close team on the court, off the court," she said. "It's fun to share that success with good people."