Returning from a season prematurely canceled by COVID-19 with a vengeance, the 2021 UTD Baseball team put together their best season in 20 years of existence, winning both the regular season and the American Southwest Conference (ASC) Championship.
Head coach Shane Shewmake said that it's the first time the team experienced such a dominant season. "We won the Conference Championship in 2018 but did not win the division in the regular season, and the year we did win the division, we didn't win the championship," he said.
After cruising to a 19 and 7 league record in the regular season, the Comets went undefeated in the ASC postseason, securing both the championship and a berth to the double-elimination NCAA DIII Regional preliminaries for the College World Series, where they would put up a strong showing but take an early exit after their third game.
The team accrued its fair share of accolades this year, including tying an NCAA DIII record for grand-slams in a season with nine to landing five students – Carter Cochrane (P), Ramon Garza, (2B), A.J. Liu (OF), Jacob Perry (OF) and Daniel Zamora (DH) – on the American Baseball Coaches of America (ABCA) DIII All-Regional teams. Perry would also become the first-ever Comet awarded an NCAA DIII ABCA/Rawlings Gold Glove award for his outstanding defense in the outfield. But Shewmake said that the team's greatest strength wasn't their individual players; rather, it was the cohesion with which they played as a team.
"This team was very well-rounded: they could hit a little bit, they could pitch a little bit … and on-paper, we've had teams that were as good or better as this team, but they just gelled real well," Shewmake said. "They liked each other, they pulled for each other, and it shows: that's really what separates them."
Finance graduate Ramon Garza echoed Shewmake's sentiment, pointing to the "selfless" fashion in which they played the game.
"One of the things this team had was great team chemistry; we were just a group of guys who enjoyed being around each other," Garza said. "The guys didn't care whose name was up there, or who got credit for what. It was about winning as a team and making sure UT Dallas is represented in the best way possible, both on and off the field."
Garza also attributed a large portion of their success directly back to the coaching staff.
"I would argue that we have the best coaching staff in the ASC," Garza said. "Our coaching staff is phenomenal. They set a standard for us since the beginning of the year: our goal was to go out and win a Conference Championship, that's the standard that was set, the standard we tried to practice and play to, and that's the position they ultimately brought us to."
Business administration senior Carter Cochrane said the team's success is all the more impressive because it came amidst one of the craziest sports seasons in Comet history. The possibility of cancellation remained throughout much of the offseason, COVID precautions were in full effect throughout the year – one positive test on the bus would knock out the entire team for two weeks – and Texas' polar vortex in February canceled the first seven games of their schedule. He said that as next year returns to presumably more normal circumstances, the team would love to see fans in the stands.
"I know this year it was hard for everyone to come out with COVID restrictions, but I fully expect the baseball games next year to be even more intense than this year, and we feed off the fans," Cochrane said. "So if y'all ever want to come out and support us, we'd really appreciate it."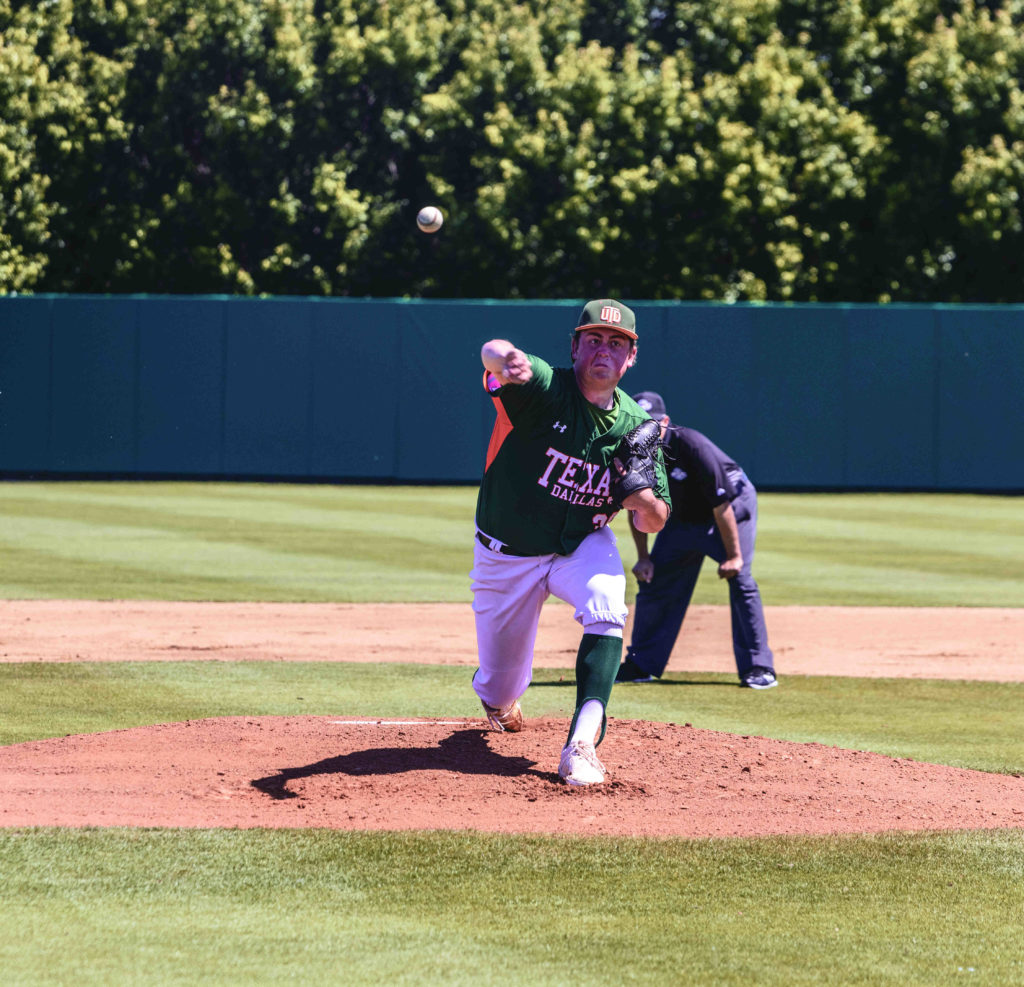 Next year's outlook is strong as well, as, under the NCAA rules that extended eligibility to account for the canceled 2020 season, students who otherwise would've been seniors this year can opt to return for another year of play. While Cochrane said that the team is looking to return its entire starting lineup, Shewmake said that they've also had some promising recruits to bolster their ranks. Garza, however, acknowledged the need to continue to put in the work to achieve that potential.
"One of the things is we don't want to get comfortable. The work that we did to get to the point where we are over the past year doesn't just magically carry over: you've got to put in twice the amount of work to be successful two years in a row," Garza said. "There's definitely a target on our back next year, but we are going to take it one game at a time and know that if we play our game, we're capable of doing some good things out there."
As defending Conference Champions, UTD is the team to beat, and despite their successes so far, these Comets don't plan to rest on their laurels.
As Shewmake said, "we have the chance to go win another conference championship next year, and those guys that are coming back, that's their expectation. That's our goal: win the Conference Championship, go win that [NCAA] Regional Tournament, and play for a National Championship."