For the past ten years, Peter Walker has devoted his time and energy into expanding and beautifying the UTD campus, winning multiple awards for his work.
Landscape architect Peter Walker was named the 2017 Richard Brettell Award in the Arts recipient for his contribution to UTD's landscape design. His work will continue to add to UTD's Campus Enhancement project as well as its overall design.
"It's always wonderful to get recognition," Walker said. "They give it to a person but it's actually that they give it to the office and the profession. I take it more as a collective honor than an individual honor."
Vice Provost for the Edith O'Donnell Institute of Art History Richard Brettell said Walker's contribution to the campus has redefined UTD, especially in a city distinguished by architecture.
"Peter is receiving the award because of all artists or architects or anybody who had anything to do with UTD in its almost 50-year history, he has had the most profound affect by reimagining an already existing campus through landscape," Brettell said.
Alongside receiving the award, Walker will give a series of lectures from April 11 to 13 in which he will discuss how landscapes shape universities.
Walker's passion for landscape architecture stemmed from his love of nature.
"I love art, I love design and I love architecture, but I also love the outdoors," Walker said. "I chose landscape over architecture because architecture is inside and landscape is partially outside so that responded to my needs. I thought I'd put all those things together and it worked out. I love my career."
In the fledgling stages of UTD's establishment, Brettell said the campus had a distinguished beginning with a master plan that mapped out where the buildings should go and focused more on where the space between the buildings should be bigger or smaller.
"The campus just took off and there was no sense of landscape being anything except for a few trees and shrubs around the buildings," Brettell said. "What Peter did was to think about those spaces and make them positive, to make those spaces between the buildings as important as the buildings."
While it is a work in progress, Walker emphasized that the overall aesthetic, although important, is not his main focus of the campus. Rather, he said, it is crucial to be sensitive to the surroundings.
"The first phase was very formal," Walker said. "We wanted to make something people would recognize as a campus. The second phase is informal, so I think we would have a contrast between institutional expression and place."
Walker's initial aim was to make UTD more appealing to new people. He said similar to how MIT appeals to its STEM majors, he wanted to display not only the contrast, but a nice setting for any student.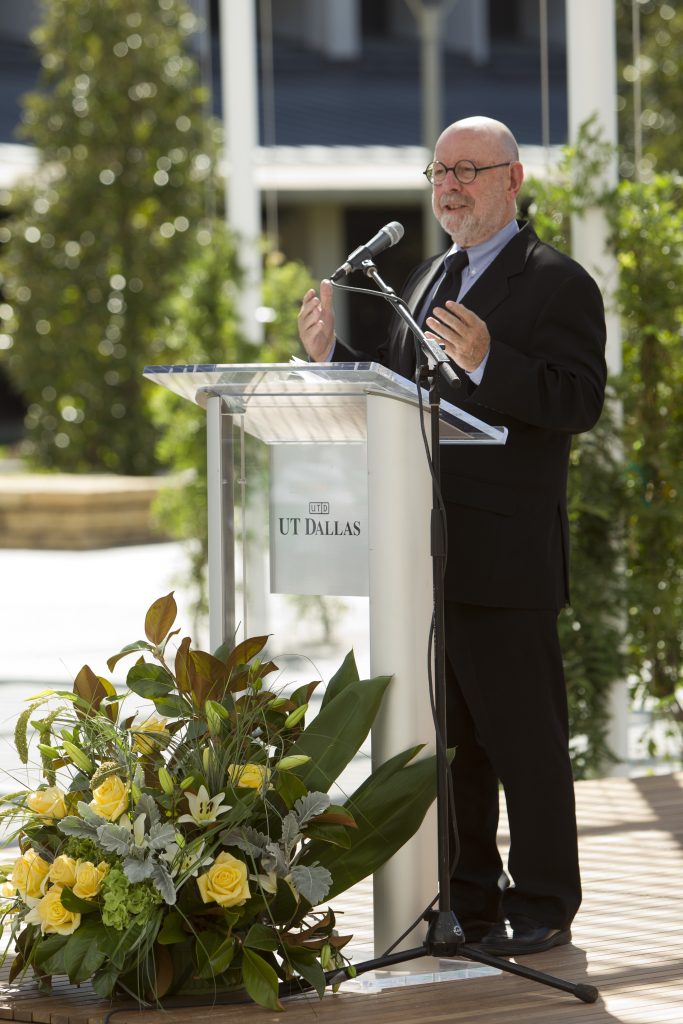 "The goal was to put it on the map," Walker said. "If you are a student, faculty member or a visitor we want you to remember the school. We wanted a landscape that would be stuck in your memory."
What started as a mission to build an attractive space between the SU and the library, now called the Plinth, turned into a bigger plan to bring the campus together and give it quality and charm. While having the goal in mind is critical, it takes time and planning to ensure the elements will all work together constructively.
"Campuses tend to fund landscape development with each building," Walker said. "The problem is that various different rings of landscape don't always fit together so you have to look at the overall campus as a whole. You have to look at the space in between, not just the buildings."
Walker said the relationship between the city and the university is a very meaningful one, and while most campuses and their respective cities often compete with regards to design, the same cannot be said for UTD.
"Here, the city and university get along very well," Walker said. "The city manager came to every single lecture and they were very enthusiastic. They used to love (the campus) because of its function but now they love it because of its form."
Although some students have been on campus long enough to see the transition, the newer students only know the enhanced campus.
"Landscapes are alive, so over time those trees mature," Walker said. "The campus is in a period of great growth and will hopefully get twice as large as it is now, and you have to keep the landscape up."
While people passively and actively interact with the campus throughout the day, Brettell said his hope is that students take the time to appreciate the landscape that Walker has given to UTD.
"The meeting point near the SU and Library and all of those things that now give the campus a sense of place and make us all proud to be on the campus has come about as a result of Peter," Brettell said. "It is not a building that is the center of UTD's campus, it is the landscape."