For the first time ever, volleyball and women's basketball were represented in UTD's Athletic Hall of Honors as athletes from those teams were inducted into this year's class.
UTD's Athletic Hall of Honors gives recognition to members of the UTD community who made a significant impact on the athletic department. Inductees are chosen biennially and the number changes from year to year depending on how many individuals receive enough votes to join the ranks. After the athletic department compiles a shortlist, a selection committee then chooses from the nominees.
This year's class, which was inducted on Nov. 9, consists of three former athletes. Athletes that played for at least two seasons can be nominated after a five year waiting period.
Niki Calverley, who was a setter from 2007-10, is the first volleyball player to join the Hall of Honors. She was also the program's first All-American athlete.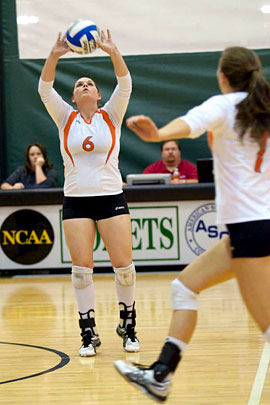 "During my time there, there were a lot of firsts, not just with me but with our whole program," Calverley said. "We won our first conference, we were nationally ranked for the first time, so it's kind of fitting."
The lessons volleyball taught Calverley are still useful in her life, including time management, teamwork and dedication.
"Discipline is everything," she said. "Discipline on the court makes you so much more disciplined in real life."
Volleyball head coach Marci Sanders said Calverley encouraged everyone to work hard and stepped up to every challenge she faced.
"I definitely think they picked the right person," Sanders said. "I'm glad that the committee chose who they did. It's exciting to get a volleyball player in there. Hopefully, we'll have many more to come."
Chelsea Cragin is UTD's first women's basketball honoree. Cragin played point guard from 2006-10 and still holds a number of school records, including career assists, steals and minutes played.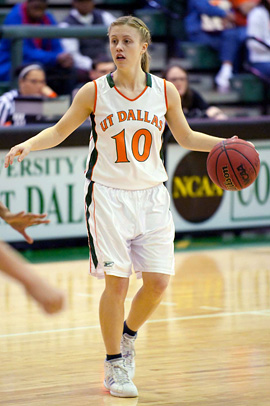 Cragin said she was surprised when she found out she was being honored by the school.
"I was caught off guard," Cragin said. "It was a surprise and I'm very honored to have been a part of that program."
Cragin was the first athlete recruited by women's basketball head coach Polly Thomason, who took over the program in 2005.
"I knew she was going to be that kid for us that was going to really bring in more talent and raise the bar for our program," Thomason said.
Thomason said she was impressed by what Cragin accomplished both on and off the court. Cragin graduated in three years, then stayed for a fourth year to continue playing and obtain a master's degree.
"She's the epitome of what a UTD student is — a hard worker in her extracurricular activities and a hard worker in the classroom," Thomason said. "She was that perfect player you hope for as a coach."
Cragin and Calverley's inductions show the maturation of their respective sports teams during their tenure as athletes, UTD athletic director Bill Petitt said. The women's basketball team qualified for the ASC tournament for the first time during Cragin's freshman year, and the volleyball team won their first ASC championship during Calverley's sophomore year.
"It really shows the growth of our program and how far the programs have come," Petitt said.