Friends and family of UTD alumna Christina Morris gathered around Celebration Parkway in Allen on Sept. 18 for a candlelight vigil. The Plano resident has been missing for more than three weeks.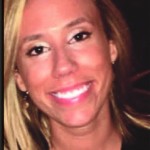 Morris was reported missing on Sept. 4 after last being seen at the Shops of Legacy on Aug. 30, according to Morris' mother, Jonni McElroy.
The 23-year-old was last seen walking to her car at the shopping complex around 3 a.m. She is 5 feet 4 inches tall, weighs 100 pounds and has brown eyes and blonde hair.
Her boyfriend, Hunter Foster, and her mother have spoken out in regards to her disappearance, asking for anyone with information to come forward.
Along with the Plano Police Department working to find Morris, many people in the community have openly volunteered their time in order to help with the search efforts.
"The community has been outstanding with the support…helping bring her home," said McElroy.
On Sept. 9, Texas EquuSearch, a volunteer-run organization that uses horseback, helicopter and other resources to conduct searches, joined the search for Morris.
People filed into the missing persons data system stay in the system until they're found, but according to the Plano Police Department's public information office, a person who is never found is extremely rare.
On Sept. 11, the Federal Aviation Administration gave EquuSearch permission to use a drone to help with the search for Morris. The drone flew over Plano until Sept. 15, but the organization suspended the search on Sept. 18 until law enforcement officials can gather more information, according to the Texas EquuSearch website.
"We need flyers to continue to be posted and for everyone to keep their ears and eyes open for any leads and clues that might lead us to bringing her home," McElroy said.
Anyone who has information on Morris' disappearance or whereabouts can contact the Plano PD at 972-424-5678.