The town of Richardson has a lot of quick stops and stores for some good grub, but here are the places with the best bang for your buck.
Walmart
If you're looking to get a wide selection of quick and easy meals, munchies for study sessions or fresh produce without breaking the bank, Walmart is the best option. It is accessible by the Comet Cruiser shuttle on Fridays and Sundays and is only six minutes away from campus by car. You might not have the time or resources in the dorms to cook yourself a full meal, but Walmart has a variety of microwaveable meals, chips and healthy snacks for under $10. The chips and snack aisle is stocked thoroughly with every American brand of munchies, and the microwaveable meals range from mac and cheese and pizza rolls to international bowls.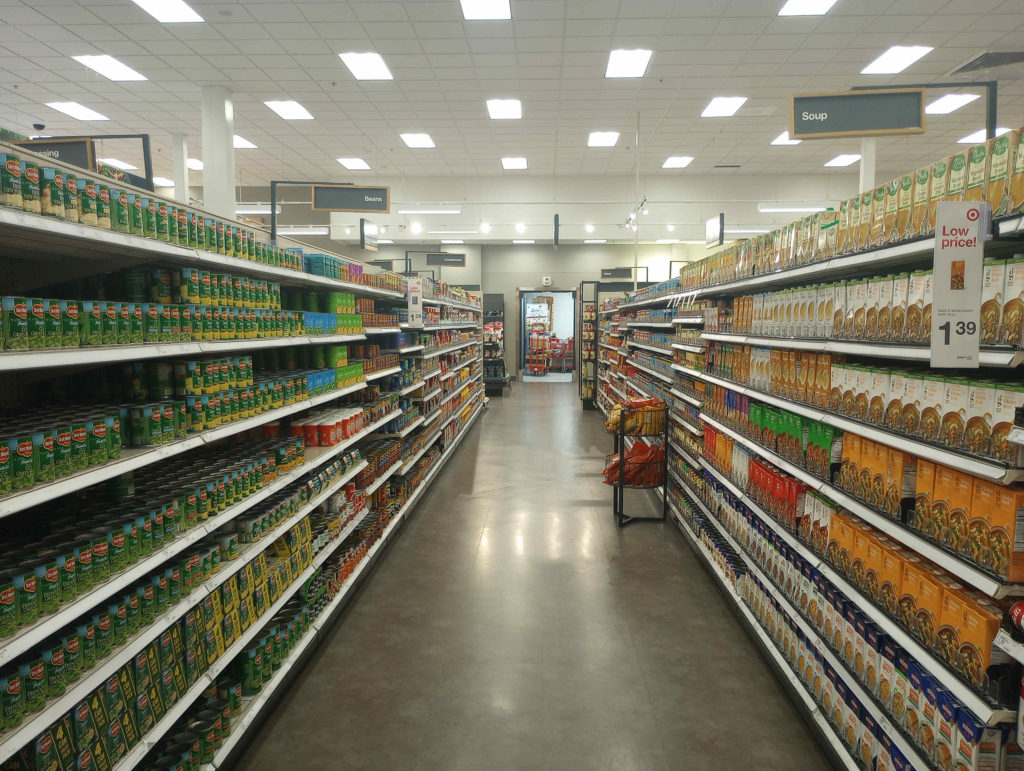 Target
This store has a reputation for higher prices, with products generally any average of $3–5 more than those at Walmart, but the quality of food makes the increase reasonable. If you're not worried about spending a few extra bucks on meals, Target offers a selection of organic produce that is considerably healthier than other stores. Don't get too worked up about prices, because they have both frequent coupons and a student discount through the Target app! The Comet Cruiser also stops close to Target. If you have a car, it is a six-minute drive or about one mile by foot.
H-Mart
Accessible by the Red Line train or an easy bus transfer, Plano's H-Mart is arguably one of the best stores to get food from around the world. The prices average from $3– 15 for snacks and ramen bunches, and shopping here won't leave you penniless if you moderate what you throw in your buggy. These include food not found in other grocery stores, from shrimp chips and seaweed rolls to mochi and snack cakes. If you find yourself overspending on boba or Korean snacks, definitely stop by H-Mart to find cheaper alternatives you can store in your dorm.
How to shop?
You've finally said goodbye to home-cooked meals and stocked up pantries. Now, you might be overwhelmed, since grocery stores are mighty big and there's almost too much to choose from. But don't get too worked up, because I'm about to give you buckaroos some tips on how to shop for groceries!
Before you step foot into any store, you need to make a list. This might seem like common sense, but once you step in there, there's no telling what fancy munchies you might chuck in your buggy after looking at the pretty labels. Scribble down the things you know you need and shop to supplement a week or two of food so that fruit and dairy products don't expire.
Next, don't pick up too many perishables if you're living in a dorm. A bag of crunchy apples or a gallon of milk might sound like a sound snack, but when you're studying for exams or rushing to classes, chances are you'll forget about them and they'll be left to rot and create a stinky mess in your dorm. When shopping, lean towards non-perishables such as microwaveable food or canned food. Buy perishables in smaller quantities so you get the most out of your money, and don't throw away a couple of bucks you could be using on your tuition.
When you're a broke college student, watching your budget is essential to not breaking the bank. Utilize every deal they toss your way, and don't be fooled by fancy labels and products that claim to be better than they are. The $10 fancy microwaveable mac and cheese is the same, if not worse, than a good ol' Kraft or Velveeta cup. While going organic might be a little more expensive, be sure to read up on deals and figure out what store is best to get those products before going.
If you live in an apartment and have a stovetop and oven rather than a kettle and microwave, try to buy more veggies and cook your meals from scratch. There are plenty of resources online to find what kind of meal prep suits you best. You can watch videos on YouTube from cooking channels that cater to college students, such as Joshua Weissman and KWOOWK. You might save some money on buying processed meals or eating out, and you can regulate what you put in your chow. Still, be cautious about what you lasso into your cart, because you need to prep for multiple meals across the week and not just the one fancy dinner you have in mind.
The last tip I have is to take a friend or roommate with you to the store. You can split the cost of items that might be a little too loaded for one person, and you can keep each other in check in the chips aisle. Now go on and grab yourselves some grub!