Two UTD students secured chess honors on March 25 at the 2023 Texas Women's Chess Championship.
The format of the tournament consists of six rounds, and each round is 30 minutes per game per player with five seconds of delay. Two players from the UTD chess team were the final finishers: Gergana Peycheva, a business administration freshman and FIDE master, or FM; and Tarini Goyal, a business analytics graduate student and international master, or IM. Peycheva earned first place, making her the official Texas Women Champion, and Goyal earned third place as a finisher.
Peycheva claimed the title of 2023 Texas Women's Champion after winning five of six games and drawing one game with her fellow teammate Goyal.
"I didn't expect it, to be honest, but it felt good," Peycheva said. "It felt nice because we prepared a lot, and we planned everything, and the way we went on the tournament was very professional, comparing to maybe our opponent. So I think it's deserved that we took first center."
Goyal won four of her six games and drew against Peycheva, bringing her to third place in the match. Goyal found this tournament to be very competitive as she was playing people rated higher than her after a couple of rounds. It was Goyal's first time playing in a women's championship in the U.S.
"I was very happy," Goyal said. "The last game was very tense, and I won that, so I was happy to get a prize after that."
Both Peycheva and Goyal played perfectly in the game they played against each other, but there were no other moves that could have given either player an advantage, so their game resulted in a draw.
"The position seemed to be equal and dry so that there were no big chances to win, and so I offered her a draw, and I think that was a good decision because we finished our game a little bit earlier, comparing to the other players," Peycheva said. "So we managed to rest, and we had some time with the coach to prepare for the next round."
Goyal prepared openings beforehand and trained with UTD Chess Coach Julio Sadorra to lock down time control.
"The coach prepared some positions in which we would be given … similar time control with the delay," Goyal said. "They were trying to pressure us on those points where things could go either way, it's a risky position, it could go good for me, good for them."
Goyal had a risky game with women's international master, Sila Caglar from University of Texas Rio Grande Valley, but nevertheless won the game. The position in this game was closed initially, but Goyal had an opportunity to sacrifice a pawn to promote to queen. As Goyal foresaw possible moves, she took the risk and sacrificed her pawn in exchange for a passed pawn, ultimately winning the game.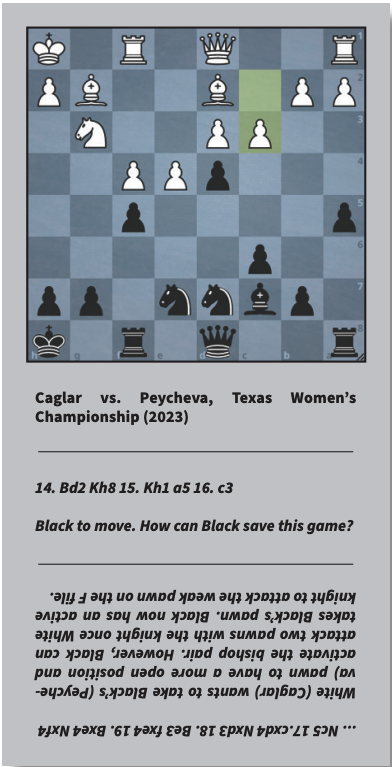 "I could have repeated moves, and that would have led to a draw, but I wanted to take that risk," Goyal said.
Peycheva has also played matches against UTRGV players. However, her crucial award-deciding match was the fifth game against Caglar.
"I chose to change my opening in the last moment, so that was a very important decision," Peycheva said.
As the spring semester comes to an end, Peycheva seeks to compete in more tournaments in her home country, Bulgaria, to reach her goal of becoming a woman grandmaster, or WGM. However, to become a WGM, you must complete three norm, high-level performances in chess tournaments where a player must play higher than their rating. For Peycheva, her norm would be playing at a performance rating of 2,400 against opponents rated higher than 2,130. Peycheva has so far completed one norm out of the three and is thankful to have a team that supports her to reach that goal.
"I have the rating," Peycheva said. "So I hope I will be able to get there. I really like to thank Coach Julio. He created a very good atmosphere in the team, not only between me and Tarini, but in general."
Peycheva said that this was a huge achievement not only for her, but for the UTD Chess Team, and she is very happy that she played for UTD.
"After I got it, when I see how glad the people near me are, I can understand afterwards that this is actually a very important thing, and also I'm very happy to perform at our university," Peycheva said. "And I will keep improving, so I hope we will have even bigger success in the future with our great team."