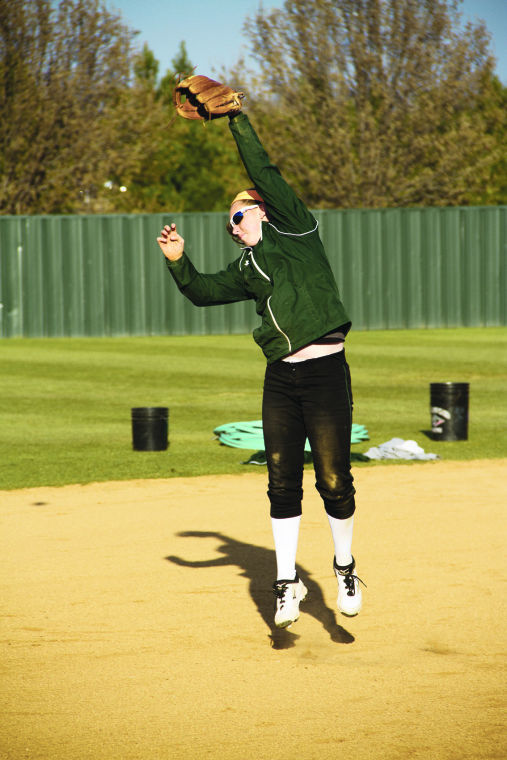 Robin Thomas' religious beliefs help frame her career, future as she looks to impact lives
It was the summer of decisions. Manvel High School's softball player Robin Thomas was heading into her senior year, trying to get into Div. I universities.
Unlike what she'd imagined, 2011 was going to be the year she would come closer to God and find a way to balance her softball career with her desire to help people live better lives.
It all started when she decided to switch her summer ball team. Going in, she knew that the assistant coach for the team was a religious woman by the name of Kelly Bembry. Something about Bembry was different — she could command a crowd with a few words and everyone on the team loved her.
Then, at a tournament in Colorado, things came to a head. Nothing was going right. Thomas' hitting was in a slump and she was struggling with getting playing time. She and a teammate sat together in the hotel talking about how to get things back on track again and talk turned to the Bible.
Having run out of options and not knowing how to fix her game, Thomas decided to sit and pray for a while. When Bembry came to find her, Thomas had been praying.
Bembry sat down next to Thomas and talked to her about her family and her own life. Somehow, Bembry must have realized what Thomas needed, Thomas said. Bembry understood that Thomas was going through a lot and what she had needed back then was Jesus, Thomas said.
"Overall, (Kelly) had the biggest impact of me coming to Christ, I would say, and it's something that's continued on throughout my years so far and I expect it to continue all through my life," Thomas said.
Thomas, now a biology sophomore, grew up in small-town Texas on a stretch of land with a pond. She spent idyllic summers playing with her two dogs, going fishing with her dad and riding four-wheelers in the back ditches. For Thomas, her childhood was all about staying away from the hustle and bustle of the city and focusing on family life.
Her maternal grandparents moved in with the family when she was still young, and she learned to play softball from her grandfather, a baseball player and softball coach.
At the age of nine, Thomas started playing competitive softball, and although her grandfather passed away when she was 11, she never fell out of love with the sport and said she hopes to play until she can't anymore.
She started out as a platoon player at second base in the first half of the games in the 2013 season as a freshman and will be playing as the starting shortstop this year. She has a career average of .294 with an OBP of 0.342.
This season might have started off slow for Thomas, who has a current batting average of 0.233, but she's optimistic she'll snap out of it soon, Thomas said.
"I think any time you play out of your comfort zone, anyone would have some growing pains and some getting used to a position, but I think she's handled those very well and we're very comfortable with her there and we're very confident in her abilities to get the job done for us," said Brad Posner, head coach for the softball team.
Thomas' best friend, business and child development sophomore Sara Navarro, said she feels the whole team started out slow, and they're still finding their groove after starting the season off with some nail-biting losses.
But having known her for a year, she has no doubt that Thomas is going to get her game back this season, Navarro said.
The two are thick as thieves, self-assigned goofballs of the team and share a common interest in their belief of God, Navarro said.
That's how they first met — Thomas knew Navarro was Christian by faith and invited her to a Chris Tomlin concert. The two ended up going together and that was the start of a strong friendship, Navarro said. Now, they walk barefoot across frozen streams on snow days, bike around on weekends and watch Sunday mass online together when they are at away games.
Her relationship with God in senior year of high school was partly the reason why, despite her love for the game, Thomas picked a Div. III school instead of a Div. I school in Delaware. UTD's reputation for academics and Thomas' desire to get a degree that would allow her to impact people's lives helped her make the final decision, which Thomas said, is the best choice she's made yet.
After changing her major three times, she finally declared herself a pre-med biology student this year and decided to try to become a doctor, or at least stay in the healthcare profession post-graduation, Thomas said.
"It's really not about the money to me," she said. "I want to help people, and I feel like if I'm smart enough to do something like that and can impact lives, then why not do it? I guess right now I'm just shooting for the highest, and wherever I end up is God's plan for me."
Thomas juggles a lot with her softball commitments and school. She is a peer advisor in a residence hall this year, and has just started tutoring through Learn to Be, an organization on campus to help train elementary school students in the nearby areas in math and science.
Posner said he thinks Thomas manages her commitments well, not just in her responsibilities, but also socially with her friends on the team and at work.
"I think she's done a tremendous job of being able to balance (her PA responsibilities and softball) along with school because she's an excellent student," he said. "I give her a lot of credit for being able to handle all that's on her plate right now, and she is pretty young, too."
While on field, Thomas is indispensable, off-field she's known as the eater, Navarro joked. Every time their coaches call for a snack time in between practices, everyone else will have almonds or something light, while Thomas takes out her peanut-butter sandwich, like it is meal time for her, Navarro said.
For Thomas, the field is where she's always been and her first friendships growing up were all through the game, she said.
The university team is the best she's ever played in, she said, because the girls have big hearts and are supportive of each other, picking each other up on rough days.
"Ultimately, this is division III, and yes we are here to win but we're here because we love it," she said.  "It's not a business. Students are not being paid scholarships to play softball, so the hours that we put in are for our love for the game and love for the team."