After a season that saw the team go 27-4, win the conference championship and advance to the NCAA tournament, a shroud of inexperience surrounds the 2014-15 men's basketball team.
The team lost several of last year's key contributors, including Kyle Schleigh, Dmitriy Chernikov, Carter Nash and Chris McOmber.
Combined, those four contributed to 1,323 of the team's 2,486 points last year. Adding onto this is the team's lack of seniority. Only three seniors with substantial playing time are returning to the squad.
With no juniors, the rest of the roster is filled by sophomores, freshmen and seniors with almost no minutes on the floor.
There is no comparison between the team from last year and this year, said head coach Terry Butterfield.
"We got to the top of the mountain in our league last year, and that was a great time, but the way I look at it, we're right back down at the bottom of the mountain, and all I can see are big ole boulders in front of us," Butterfield said.
Despite the lack of veterans on the squad, the team has still garnered a slew of preseason accolades. It's currently ranked no. 22 in the nation, according to D3hoops.com, and UTD has been predicted to finish second in the ASC.
Senior guards and captains Nolan Harvey and Matt Medell have been tabbed on the conference preseason watch list. Medell was a second team All-ASC pick last year with 15.2 points, 4.1 rebounds and 2.2 assists per game. Harvey earned third team All-ASC honors with 13.9 points, 3.5 rebounds and 3.3 assists per game.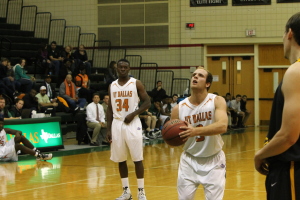 Getting the new members of the team up to speed will be a test for the team, Harvey said.
"We've got a lot of new guys, so it's going to be hard," he said. "It's going to be a challenge to get all those new guys where they need to be and where we need to be as a team."
Butterfield said that in order for the team to be successful, the new players will have to buy into his system.
This can be difficult, Harvey said, since the offense is filled with subtle nuances and reads that take time for players to get adjusted. While they didn't have a hard time communicating and getting the ball moving last year, the players have had a bit of a harder time with this so far, he said.
"If you watched any of the games last year, you could tell that we were just seamlessly transitioning from one thing to another," he said. "If you were going to come and watch a practice right now, it probably wouldn't be like that."
The obstacles the new players have to go through is comparable to going to calculus and being asked to take a test without having proper time to absorb the material, Butterfield said.
"I don't know that we've ever, ever been younger and more untested than we are this year," he said.
Another issue that will face the team is the competition and athleticism within the conference, Butterfield said. Teams in the ASC have a tendency to attract extremely talented athletes, something that UTD has to compensate for with the way the team plays, he said.
The teams foundation this year has to be defense and rebounding, he said.
"There's going to be nights when we're cold as ice, and we can't shoot it in," Butterfield said. "Can we still stay in a ball game? Can we still find a way to win a ball game when we're not shooting well? … If you can defend and you can rebound, you can still have a chance to stay in a ball game."
With few players left on the team who have time on the floor, the seniors have become the source of leadership for the group, Medell said.
"Coach Butterfield looks us square in the eye and is like 'It's on y'all,'" he said. "'I can go out there and I can yell at people, but they're not going to respond to me like they're going to respond to you.' And that's true, because we're out there with them everyday … Whenever practice is going bad, he's looking at us for leadership."